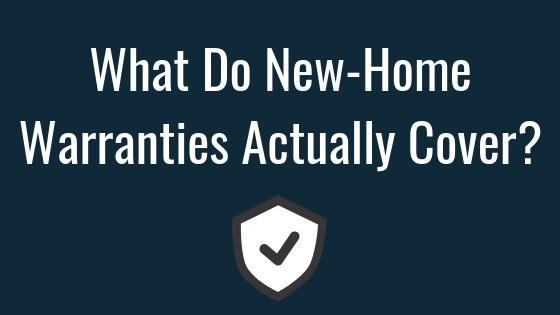 The prospect of buying a brand new, built-just-for-you home can be pretty exciting. After all, a newly built home is a clean slate just waiting for you to put your touch on it and start making memories. There's no guesswork about what previous owners along the line might have experienced or what changes and repairs they might have made. Plus, you get that handy dandy builder's warranty that covers any possible issues you might find with the home, right? Well…maybe. New-home buyers should be aware that builder's warranties aren't quite the blanket policy they might seem to be. It's extremely important to have a chat with your builder about what their new-home warranty actually covers, the extent of their liability, and what happens if you file a claim or a dispute. Every builder is different, and not all warranties are created equal.
A new-home warranty usually lasts from about six months to two years. Some may cover major structural defects for up to ten years. They typically cover the following:
Concrete foundations and floors

Clapboard and shingles

Carpeting

Thermal and moisture cover

Waterproofing

Insulation

Roofing and siding

Doors and windows

Garage doors

Plumbing

Electrical

Heating and cooling

Septic system
New-home warranties usually don't cover the following:
Household appliances

Shrinkage or expansion of the house

Shrinkage of joints and minor cracking

Insect damage

Dampness or condensation caused by inadequate ventilation
To be sure that you're fully protected, have your real estate agent or a real estate attorney look over the contract and warranty to make sure everything looks legit. You can also protect yourself by having your own home inspector do a thorough evaluation of the home before closing day. If you want to go even further, consider adding a third-party home warranty, which will often cover things that your builder's warranty won't, like household appliances. Make sure to research those third-party warranties well, though, and get recommendations from your Realtor®.